Government schools that will be transformed into PM Schools for Rising India (PM-SHRI) schools will be developed as "green schools" and will teach children about the heritage of the country and inculcate the values ​​of "Bharat", the ministry has informed. Union Education all states in one letter.
The schools will make students proficient in Indian languages ​​and will also work to "link students to local industry for skill development", the letter says.
"The Union Ministry further stated that the online portal will open from October 1 to November 30, and during this period public schools in the state can apply to participate in the selection process for the upgrade in as PM-SHRI schools," a senior said. said an official from the Punjab education department.
Under this program, the government led by Prime Minister Narendra Modi aims to develop at least 14,500 existing public schools in the country.
The union cabinet approved the PM-SHRI scheme on September 7 and Rs 27,360 crore will be spent on it over a period of five years; the Center's share will be Rs 18,128 crore while the State's share will be 9,232 crore – a ratio of 60:40.
Regarding the selection process, the letter indicates that schools will be selected for the PM-SHRI via a "challenge mode", i.e. schools will have to apply on the portal which will be open four times a year, a quarterly for the first two years of the plan. A maximum of two schools (one elementary and one upper secondary) will be selected per urban block/local body.
However, not all public schools will be eligible to participate in the challenge, per the letter. First, states must sign a Memorandum of Understanding (MoU) with the Union Ministry "setting out commitments to implement the National Education Policy (NEP), 2020". Next, school eligibility will be identified by verifying whether they meet the requirements of certain Unified District Information System for Education (UDISE) data parameters.
The letter clarifies that no predefined target has been set for the number of schools to be selected and that the results of the "challenge" will determine the number of schools ultimately selected for the program.
"These schools will be learning spaces where every student will feel welcomed and cared for," the letter said, adding that under the program, elementary schools (grades 1 through 8) and high schools (grades 6 through 12) State-run/center will be considered.
Notably, the Aam Aadmi Party (AAP) government in Punjab has started the process of selecting 100 public schools to be transformed into 'eminence schools' along the lines of the 'Delhi model of education'. School Education Minister Harjot Singh Bains visited schools across the state and the state Department of Education conducted a statewide survey to collect data on infrastructure, manpower and supply of basic equipment. in public schools in Punjab.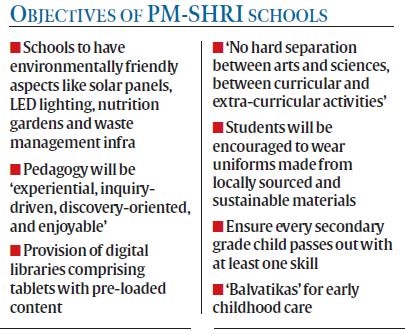 Minimum requirements for a school to be selected
A pucca building in its own right
Student enrollment must be above the state average
drinking water installation
separate hand washing facility
continuous feeding
Equipped with fire safety measures
A focus on the values ​​of 'Bharat'
"Students will be rooted in the knowledge and heritage of India, proud of the ethos of civilization and the values ​​of Bharat. Students will be aware of India's contribution to the world, aware of their duties to society, proficient in communication in a few Indian languages, respecting inclusiveness, equality and unity in diversity, and working for 'Ek Bharat Shreshth Bharat'," the Center said in the letter.
Other Objectives of PM-SHRI Schools
The letter says pedagogy will be "experiential, research-driven, discovery-driven…and enjoyable" and schools will focus on "connecting with sector skills councils and local industry" to deliver better job opportunities for students. "Children will be encouraged to do internships with local retailers, artisans and other micro-enterprises…", he says.
The Center also said that schools will have "no strict separation between arts and sciences, between curricular and extracurricular activities and professional and academic streams. Students will have the opportunity to choose individual programs.
The project will aim to develop public schools as "green schools" with environmentally friendly aspects such as solar panels, LED lighting, nutritional gardens and waste management infrastructure. Plastic-free schools, water conservation and harvesting, organic lifestyle awareness and climate change hackathons. Students will be encouraged to wear uniforms made from local and sustainable materials which will also provide income for locals.
Schools will also have a 'tracking system' to keep track of students who have 'fallen behind or dropped out' and allow them to re-enter schools.
The letter states that every secondary school child will succeed with at least one skill and special emphasis will be placed on strengthening the infrastructure for the education of girls and children with special needs.
"Balvatikas" for early childhood care will also be set up in PM-SHRI schools and a digital library system including tablets with pre-loaded content will be made available to pupils.