In a sprawling overview of today's HR technology market, analyst and HRE Columnist Josh Bersin told a large audience at the HR Technology Conference on Wednesday that the coming year should see both consolidations in the market and continued growth, even amid fears of a recession.
In his opening speech titled "The Disruption Never Stops: What's New and What's Ahead in the HR Tech Market," Bersin highlighted a number of trends, including the maturing skills market, the need for talent intelligence, and the power of employee listening. .
Setting the stage, Bersin said human resource managers have their hands full, especially given what he called "incredible" inflation and volatility in the stock and crypto markets. On top of that, 81% of workers say they are exhausted. Recent employment figures bear witness to this, with 4.2 million people leaving their jobs and a third of the workforce changing jobs in recent years. "These problems will persist whether or not we have a recession," he said.
---
---
Bersin pointed out that the best new HR tools aren't designed to help HR professionals deal with these issues; rather they are aimed at employees. "In my search for large HR systems, successful implementations were not technology projects but business transformation projects for employees," he said.
Where is the market going?
Upskilling and reskilling have been major goals for many employees in today's market, but Bersin admitted he was frustrated with claims from skill providers. "I'm afraid you've been oversold on the promise of skills. It's a very, very complex issue," he said.
"Today's skills issue is large and complex, and it's affecting the job architecture within a company with new job titles that require the same skills," he said. "We now have eight different job titles that all sound like the same role and skill requirements."
The rise of capability academies – the learning method for employees of an organization to partner with or advise one another – has accelerated over the past year. "These academies bring people together in a company and allow them to learn from each other," he said.
---
---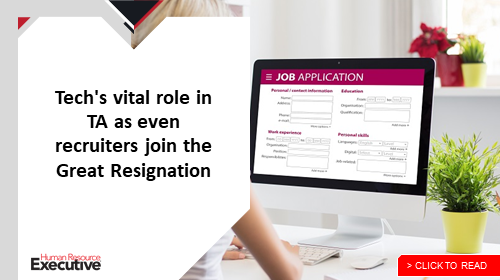 Technology will make learning increasingly innovative, he said; for example, corporate training is one area where the metaverse, virtual and augmented reality will abound.
In addition to technology-powered learning, Bersin also highlighted the need for strong employee listening, a feature that now resides in many HCM platforms. "You can't learn more about your business if you don't listen to employees. Employee listening is a huge space and growing," he said and added that passive listening – the ability to find data points about employee behaviors, productivity and actions – is also taking off. .
The smart use of talent data can be a differentiator in today's work climate. For example, workspace analytics — who uses the desk, who doesn't — "will be a big part of HR next year," he predicted.
Despite the challenges of the Great Resignation, the back-to-the-office debate, and new concepts like silent resignation, Bersin said he believes the role of HR — and its ability to maximize the use of technology — n has never been so vital.
"The most important part of it all is what you do," he said. "There is no way to deal with this complexity unless [HR leaders] Take it seriously."