Content of the article
Edmonton's Telus World of Science (TWOSE) offers high-needs rural and urban students the opportunity to develop their digital and literacy skills.
Content of the article
The Northern Coding Academy is due to start this summer and is federally funded through the Government of Canada's CanCode program. The program kicks off with an in-person teachers' symposium this summer, with the rest of the program being done virtually.
Maura Armstrong, director of education at TWOSE, said they are setting up the program with two separate streams – one for teacher professional development and one for student programs.
"In the teacher professional development stream, there is an opportunity to develop digital skills and literacy for teachers that they can then bring into the classroom," Armstrong said. "And for students, we have direct instructions that will integrate the work of teachers into this program.
Content of the article
Armstrong added that digital skills are becoming a necessity and that this program aims to bridge the gaps between students in rural Alberta and those living in the Yukon, Northwest Territories and Nunavut.
"This program is designed to ensure that students who may be missing out on these opportunities have the chance to do so, and give teachers the confidence to bring this to the classroom, as these are the skills that are important for every job. now," Armstrong said. .
"These are also the skills that will create the jobs of the future that we don't even know exist yet."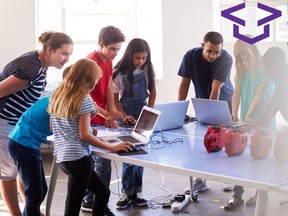 Armstrong said being able to provide digital skills through this program is "meaningful" and that TWOSE teams have been working on developing coding and robotics programs for about 20 years and have been working hard for the past decade. .
Content of the article
She said one of the program's key concepts is computational thinking, which breaks problems down into smaller parts.
"It's a really essential way to understand how computers work," Armstrong said.
"Understanding computational thinking is a big step forward in understanding how to code and how to operate and work in the digital environment. So that's going to be core to our focus and tons of different skills are going to flow from that.
Armstrong said teachers don't need to have previous experience in the digital world to participate in the program.
"We're here to help teachers learn those skills and so any teacher who feels intimidated by this kind of work, we're here for them," she said.
Anyone interested in learning more about the Northern Coding Academy, attending an information session this month, or applying for the teachers' symposium this summer can visit twose.ca/northern-coding-academy.
ktaniguchi@postmedia.com